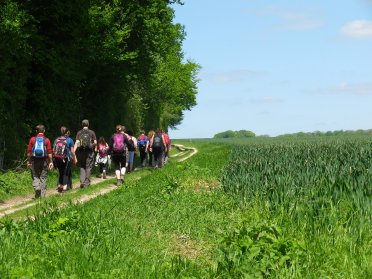 This summer saw a Hampshire 20's and 30's group first (at least in current memory). We joined Hampshire Ramblers Footpath Committee to learn how to survey and clear footpaths. A huge part of the work of the Ramblers Association is the maintenance of footpaths and in this, volunteers are crucial. Footpath maintenance can involve surveying for damage and obstruction, clearing vegetation and building new paths and bridges as well as maintaining them.
The first outing saw members head to Farley Mount, near Winchester, to use strimmers and looping shears to clear overgrown footpaths. The following month we visited Colden Common to carry out a footpath survey. In particular we were told about what to look out for including making sure there is a way marker clearly visible and that styles and gates are not blocked or overgrown. At Colden Common there were overgrown markers to cut back and a missing footpath marker.
Footpath maintenance is definitely on the agenda for 2018 so please do keep checking the walks and events calendar if you would like to help.